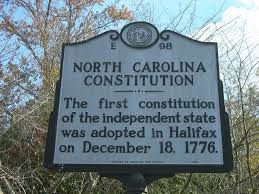 A little known provision in the State budget approved and signed on August 7, 2014, by Governor Pat McCrory will drastically change the judicial system in North Carolina on constitutional challenges.
Any North Carolina law can be challenged on the grounds that it violates the Constitution of North Carolina. Historically, constitutional challenges are made first in Superior Court, then appealed upwards to the Court of Appeals, and finally, to the North Carolina Supreme Court. Beginning in September, all constitutional challenges will now be heard by a three-judge panel in Wake County. This three-judge panel will be selected by the Chief Justice of the North Carolina Supreme Court, Justice Mark Martin, who will select one-panel member from Eastern, Middle, and Western North Carolina. Decisions of the panel can be appealed just as prior constitutional challenges, however, all appeals of the three-panel will now bypass the North Carolina Court of Appeals and go straight to the North Carolina Supreme Court.
This change to North Carolina's judicial system, the third branch of state government, is unprecedented in the United States. Some states have set up panels for special issues, such as what North Carolina did for Congressional redistricting challenges, but no other state until now has ever enacted a law that redirects all constitutional challenges to a special panel. The North Carolina Bar Association, which often refrains from commenting on legislation, has come out strongly against the law, arguing that it insulates the General Assembly from challenges and creates a perceived bias against those who seek to challenge a law on the grounds of a constitutional violation.